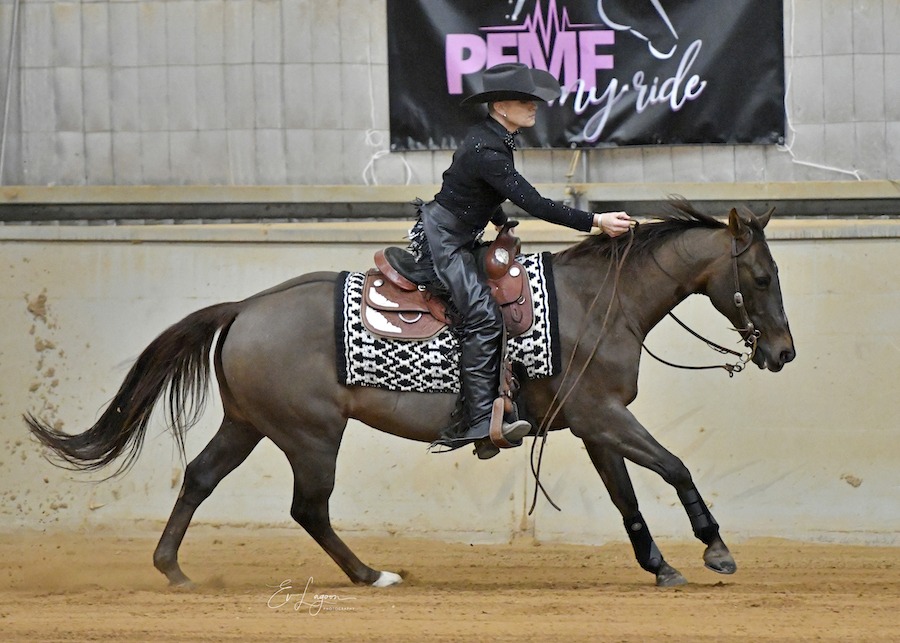 The sport of Reining is as exciting as it gets. The signature spins and slides keep us on the edge of our seats.
Reining is a judged event designed to show the athletic ability of a ranch type horse within the confines of an arena. Horses are judged individually as they complete one of fifteen pre-selected approved patterns.
Each pattern contains a series of manoeuvres to be executed in proper order. Those manoeuvres include small slow circles, large fast circles, lead changes, rollbacks over the hocks, 360-degree spins done in place, rundowns, backups and the signature sliding stop.
In scoring, credit is given for smoothness, finesse, attitude, quickness and authority when performing the various manoeuvres. Controlled speed in the pattern raises the level of difficulty and makes the reining horse more exciting and pleasing to watch. Increased level of difficulty is rewarded with higher scores if the manoeuvres are performed correctly.
Reining differs from other western horse sports because the horse and rider are specifically judged based on how 'willingly guided' the horse completes the pattern. The philosophy of the sport is embodied in one statement: "To rein a horse is not only to guide him, but also to control his every movement. The best reined horse should be willingly guided or controlled with little or no apparent resistance and dictated to completely".
The Reining judging system is recognised as the leading format for judging an equine event that combines technical and stylistic elements coupled with consideration of 'degree of difficulty'. Many segments of the equine judging discipline have openly embraced the Reining judging system.
There are multiple divisions of competition offered at approved shows to enable competitors at all levels to participate, learn, and improve as they master the intricacies of one of the most exciting equine competition events. 
Reining shows offer several levels of competition for:
Open riders
Rookie and entry-level riders
Non-pro riders
Youth riders
Novice horses
Aged event (futurity, derby and maturity) horses
Affiliate (or local level) riders
Para reining – open to riders with disabilities
Join the fun. Join GVRHA!
A Goulburn Valley Reining Horse Association Membership can be fun and rewarding.  Whether you show at a few or all of our shows throughout the year, there is something for everyone at GVRHA.